Mental Health Awareness Week at London Business School is about raising awareness of the key mental health issues facing our School community and beyond. Natalia Fomichenko MBA2021 and Jonathon Buck MBA2021, Co-Presidents of this initiative, discuss what they're planning and why the week is so important to them personally.
Mental Health Awareness Week at LBS incorporates a variety of events, workshops, speaker events and panels – all designed to spotlight specific mental health and wellbeing issues, start crucial conversations, and raise money for local charities.
Why is this week so important?
We believe that mental health challenges are some of the most pressing yet least discussed issues facing young people today. According to Mentalhealth.org, one in six people report experiencing anxiety and / or depression in any given week in England. Closer to home, 75% of the 150 LBS students we surveyed in 2019 have experienced a personal struggle with their mental health and wellbeing in the last five years, including stress, burnout, anxiety, and eating disorders.
It's likely that this is only the tip of the iceberg. Compounding these issues is the silence and stigma that frequently accompany them. We believe that such issues are drastically underreported due to a fear of speaking out, as well as a distinct lack of institutional support offered to young people in the UK, especially students. This tends to exacerbate the sense of isolation and stigma, meaning that even those individuals who are brave enough to seek treatment are rarely able to access it.
Now more than ever, after a torrid year of isolation and uncertainty, it's vital that we help our community in the best way we can – by getting people talking.
So how are you, really?
That's why we're encouraging people to ask both themselves and others, "How are you, really?" Then listen to the answer with curiosity, compassion and kindness. You might be surprised by what you hear.
And that's okay.
We believe it should always be okay to share how you really feel. This allows us to not only get the support we need, but also realise that we're not alone. There is no reason why a mental illness should be treated any differently to a physical one; we should all be able to access support just as quickly, and without fear of judgement.
This is why we're thrilled to introduce our 2021 campaign – How are you, really? To get involved, it's very simple. Start by asking yourself how you're really feeling. Then ask your friends, "How are you, really?" Listen to their answers with curiosity, compassion and kindness – especially for those who might be sharing their thoughts for the first time.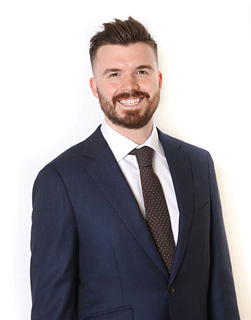 By having these conversations, we hope to break the stigma surrounding mental health and get ourselves and others the support we need.
What does Mental Health Awareness Week mean for us personally?
Jonathon: I'm someone who has suffered from depression, anxiety and eating disorders my entire life. For more than 20 years, I've suffered in silence, unable to find support in a broken family, too ashamed and scared to speak to friends or peers. Institutional support at a traditional British boarding school was nonexistent, while my overworked GP simply didn't have the time to listen to me and was content with prescribing a high dose of SSRIs and sending me on my way.
Fast forward 10 years, and my life has improved incomparably. Although there was no magic bullet, by finally putting in place a consistent support structure of talking, therapy, exercise, and other routines, I've reached a level of happiness I never thought possible. Having accidentally stumbled upon this answer, I now feel a responsibility to try and help others, whether by lending a compassionate ear or pointing them in the direction of great therapy organisations. I believe that Mental Health Awareness Week offers a chance to share similar messages on a much grander scale and help others I otherwise couldn't. Even if I can encourage just one new conversation, I'll be happy with that.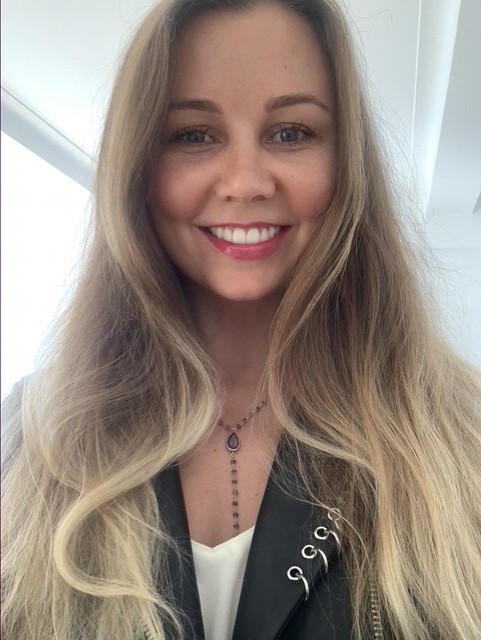 Natalia: My interest in mental health and wellbeing was fueled by my experience of the high-stress environment of a consulting job. I've observed many bright and capable people suffer from stress while not being able to admit they have a problem. Permanently under pressure to exceed expectations and never make mistakes, they develop low self-esteem and a negative outlook on life. This has serious implications for those who already tend to be perfectionists. Many have developed anxiety disorders, and one person even committed suicide, whereas I left the job with an eating disorder.
For a logical person like me, it was strange to be doing something that I knew wasn't good for me. However, time and time again I relapsed into vicious circles of eating and self-condemnation. It was hard to go through – sessions with a psychologist only helped for a short while, I was embarrassed to tell others about it, and those I shared my problems with either couldn't understand how serious they were or didn't know how to help.
This experience has made me who I am now – resilient and compassionate. And it's why I take joy in organising Mental Health Awareness Week – a forum for people coping with their challenges, letting them know they aren't alone and giving them a safe space to talk. It's also an opportunity for others to learn about what it means to deal with mental health challenges so that they can better support their loved ones. I'm hopeful that everyone can take away techniques to build their resilience in life. When that happens, it means my journey was worth it.
Our Mental Health Awareness Week events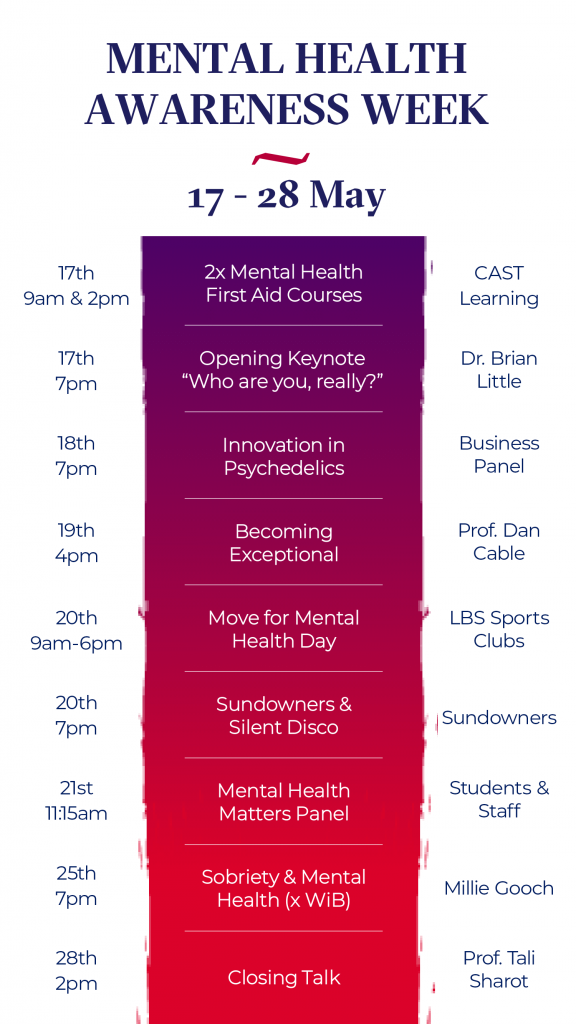 Keynote speaker Dr Brian Little
This year's keynote speaker is professor, author and TED speaker Dr Brian Little. A lecturer of Psychology at McGill, Wharton, Harvard and Cambridge, his Me, Myself and Us: The Science of Personality and the Art of Well-Being was an Amazon bestseller, and his TED talk (Who Are You, Really?) has been viewed on YouTube and TED sites over 20 million times.


MOVE for Mental Health Day (Thursday 20 May)
Get outside, get moving and improve your mental health while raising awareness. We're partnering with a number of LBS clubs including the Salsa Club, Booty Busters, Gaming Club, Women's Touch and many more to give you a chance to get a sweat on with your friends or maybe try a new activity. You'll catch us at beginner salsa for sure. Cool t-shirts and ginger shots included!


Mental Health First Aid course
We're excited to bring back last year's extremely popular Mental Health First Aid course! It will help you build a toolkit to better understand and support both yourself and others when experiencing mental health challenges. This sold out in minutes last year and was very well received!


Mental Health Matters – a student and faculty panel
Join us for an open discussion where students, faculty and staff, including Richard Jolly, Professor of Organisational Behaviour, the School's Wellbeing Services staff and importantly your peers, share their own battles with mental health and offer some insights into building resilience.


Psychedelics in Mental Health
Join a panel of business leaders in the psychedelics market to learn how these substances can aid mental health disorders.


Sobriety and Mental Health in partnership with Women in Business
Join us for a conversation with Millie Gooch, Founder of Sober Girl Society and author of The Sober Girl Society Handbook. Millie is a champion of sobriety in young adults, and will share her experiences of sobriety and its positive impact on mental health, as well as her perspective as a successful entrepreneur.
Follow us on Instagram @lbs.mhw to keep up to date on Mental Health Awareness Week events!