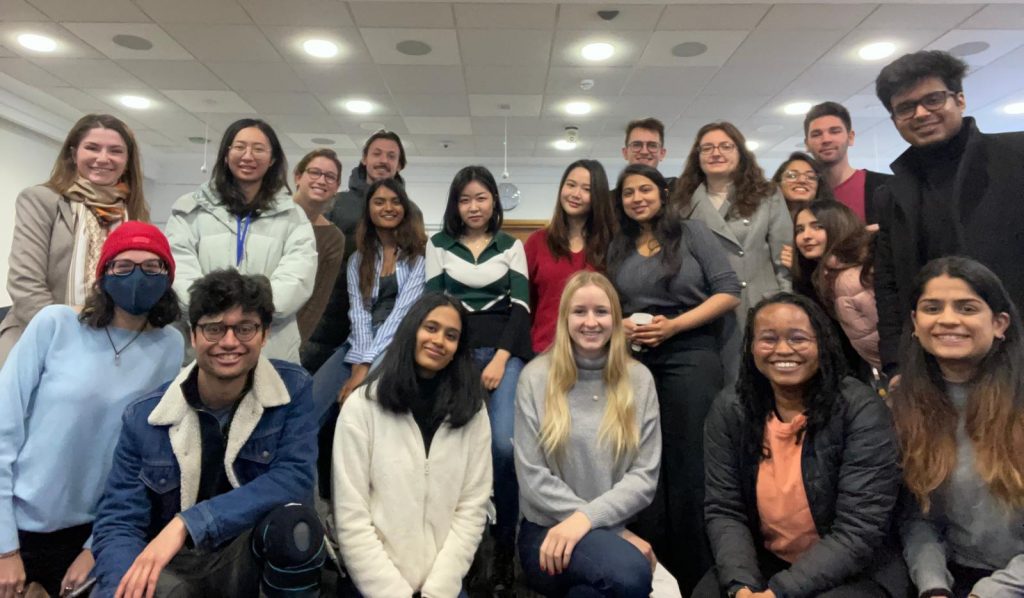 The co-leads of Project Aasha 2022, Surbhi Kothari MiM2022 and Jakob Winkler MiM2022, share how they put leadership into practice with this unique experiential learning opportunity. Aasha means "hope" in Hindi. A fitting name for an initiative where Early Career students, through impact consulting projects, can bring hope and positive impact by collaborating with social entrepreneurs in India. Project Aasha runs in partnership with Head Held High (HHH). HHH is an incubator for social changemakers that develops programmes to help households in rural India move out of poverty. The Student-led Learning team and Wheeler Institute support the students throughout the process.
This year, Surbhi and Jakob took ownership of Project Aasha. They were responsible for all aspects of the project, including working with partners, selecting projects, and recruiting teams of student consultants. Each project team used their business knowledge and skills to help a social enterprise (a changemaker) over four months. The project culminated in a final presentation which took place on 25th April 2022.
Why did you apply to lead Project Aasha?
Surbhi: Since high school, I have engaged in social impact activities. Whether as a tutor to neighbourhood children or a mentor to aspiring entrepreneurs in villages, I firmly believe that we can create an impact at every level. However, I wanted to understand creating impact in a business context. I wanted to leverage my social impact experience and combine it with my business school learnings. Leading Project Aasha would help me do that and, at the same time, allow me to hone my leadership skills in an international setting.
Jakob: My primary motivation to become co-lead at Project Aasha was to develop my leadership skills and engage meaningfully with real social impact businesses in India. Project Aasha was the ideal learning experience to act in a leadership position in a safe environment. On the other hand, it also allowed me to utilize my previous work for social enterprises and create value for the students and changemakers.
What was most valuable to you about leading Project Aasha?
Surbhi: For me, the most valuable aspect of leading Project Aasha was supporting our stakeholders in achieving their goals. Through Project Aasha, we paved a path for our changemakers to meet their business goals. At the same time, through the in-project activities of skills sessions and workshops, we helped our student teams work on their professional goals.
Jakob: Personally, the learning experience for all parties involved was most valuable for me to witness. The students faced tough business challenges presented by the changemakers. It was incredible to see the value they created together with the changemaker to help them sustain their business.
Has any learning in the classroom helped you with managing this Project?
Surbhi: LBS courses such as Personal and Professional Growth, Performing in Organisations and Business and Communication Skills were vital in developing my interpersonal and soft skills. These helped me collaborate better with the team and communicate effectively with the stakeholders. As a project leader, balancing the stakeholders' expectations was a key responsibility.
Jakob: As with almost anything at LBS, teamwork is essential to Project Aasha. The classroom laid the foundation for getting the most out of collaboration, and I could apply this at Project Aasha as well. Precise communication and the ability to listen were valuable skills transferred from the classroom into a more experiential context.
How has leading Project Aasha improved your leadership skills?
Surbhi: For Project Aasha this year, we adopted a completely hands-off approach. We took a back seat to give the teams more responsibility and ownership. This was a huge test of my delegation and trust within a team setting. It pushed me to step aside and drive success through the team's actions. Regular information transmission between parties also helped nurture my communication and interpersonal skills.
Jakob: Co-leading Project Aasha improved my leadership skills in two ways: First, I learned how to manage stakeholder relationships. Project Aasha involves many parties from inside and outside of LBS, so meeting all different needs was challenging. But with constant mentorship from LBS and the teamwork between Surbhi and me, I got to enjoy balancing the various factors of Project Aasha. Second, I learned to be a sparring partner for my teams. As the students were highly competent and motivated already, I learned to act more as a mentor and guiding partner with an extra pair of eyes.
What changes did you implement this year?
Surbhi: The most significant victory for us this year is setting the foundation for the impact assessment of Project Aasha. Project Aasha is primarily an impact consulting project. Through an impact assessment phase, we can follow up on the recommendations made for the changemakers and note feedback for future years. By outlining Project Aasha's mission, and the initial impact assessment surveys, we have tried to clarify its goals and impact. Further, we have received responses from changemakers that successfully implemented the recommendations or materials provided by our teams. They complimented the teams on their thorough work and robust insights.
Jakob: I can only agree with Surbhi that we were trying to establish a more long-term vision for Project Aasha at LBS and make it an essential part of the student environment. It has been the five years of Project Aasha, with the past two years running the Project remotely. We wanted to reiterate the purpose and value-add of Project Aasha that the next cohort can hopefully build on.
What will you take onwards with you after graduating from LBS?
Surbhi: It's the most cliché answer, but for me, like most others, it is the people and the exceptional experiences I have had with them. In professional, academic and social scenarios, I have had the opportunity to interact with the brightest and kindest people, and I have learned something from each person and experience.
Jakob: I take from LBS that learning is a constant process that does not only happen in the classroom but even more so when applying knowledge in other contexts. Project Aasha was a perfect opportunity to learn from each other and develop a new skill set!
To find out how you can get involved in Project Aasha, please email student-led@london.edu