One of the ways students can develop their leadership skills at LBS is by leading a club or initiative. The Student Leadership Incubator strives to support these leaders by creating a reflective space so they can move forward as well-equipped leaders in a complex and uncertain world.
The Leadership Incubator is a platform for student leaders to discover, develop and practice their leadership competencies. Now in its eighth year, the Leadership Incubator is a partnership between three teams at LBS: Experiential Learning, the Leadership Institute, and the Career Centre.
The learning journey starts in September each year and takes students with leadership roles within our community on an iterative process of collective exploration and experimentation. A select group of student leaders cycle through reflection, insight, and practice every two weeks. We have anchored this learning with Insight into Action, workshops, individual coaching, and Action Learning set.
Insight into Action with Randall Peterson
Having a small, select group in the Leadership Incubator allows students to hear from leading LBS faculty and have plenty of time for Q&A. The latest Insight into Action session featured Randall Peterson, Professor of Organisational Behaviour and Academic Director of the Leadership Institute at London Business School.
Professor Peterson's session focused on the fundamental principles and practices that drive high-performing teams and organizations. He emphasized the critical role that leaders play in creating and sustaining high-performance teams and the importance of leaders being self-aware and having a strong sense of purpose.
Trust, Communication, Clarity
One of the key takeaways from Professor Peterson's session was the importance of building trust within teams. He stated that trust is the foundation of all successful groups and organizations; without it, teams will likely fail. He also emphasized that leaders must communicate effectively and create an environment where team members feel comfortable sharing their thoughts and opinions.
Another important aspect of high-performance teams that Professor Peterson touched upon was the need for clear goals and a shared sense of purpose. He argues that teams perform better when they clearly understand what they are working towards and why it is beneficial. He also discussed the importance of continuous learning and development and how teams can learn from their successes and failures.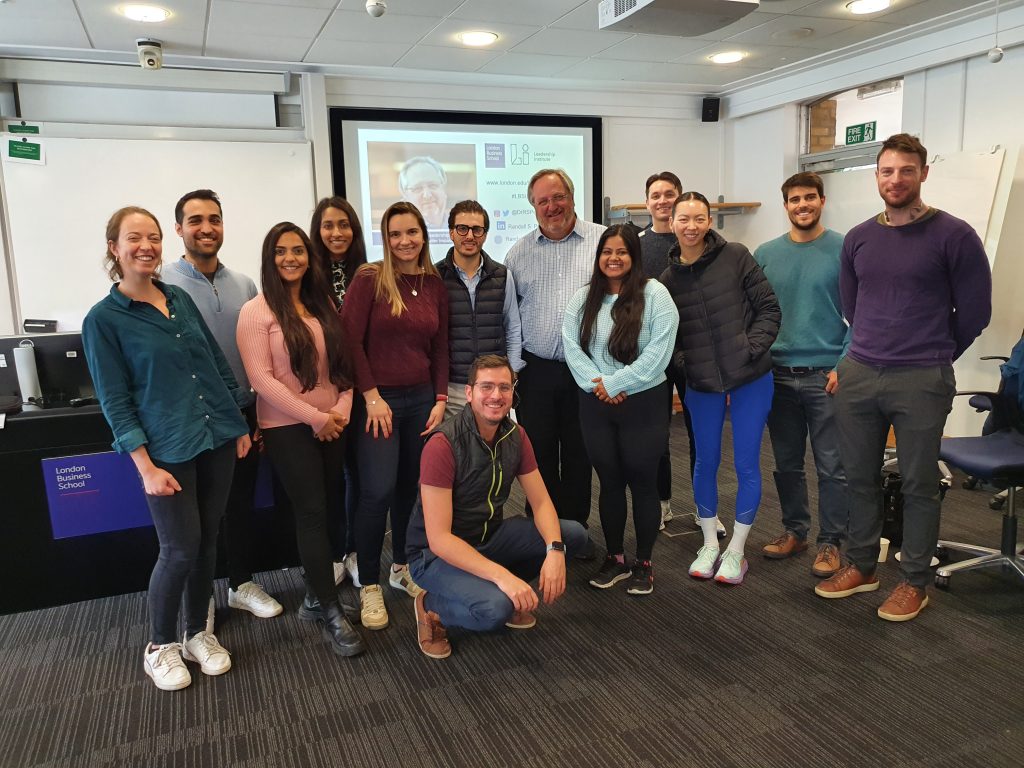 From the Co-President of the Healthcare Club: Key Takeaways
Varuni Fernando is Co-President of the LBS Healthcare Club and shares her thoughts on the Leadership Incubator and Randall's session.
One of the programs I've enjoyed the most at London Business School is the Leadership Incubator for Club and Student Association leaders. We meet every two weeks, learn new leadership methodologies, reflect on what we've learned and engage in group and individual coaching to help us lead our teams. Today we got to hear from Prof. Randall Peterson, whose thoughts on leading high-performing teams were very insightful! My key takeaways were:
1️. Create a skills matrix for the team to understand gaps better and help with delegation
2. When delegating tasks, be clear on any boundaries and highlight where a team member can add their own signature
3. Get clear on the problem as a team before launching into solution mode
Leadership Incubator
The Leadership Incubator provides students with a supportive and inclusive learning environment where they can collaborate with their peers and build meaningful relationships. These relationships are essential for personal and professional growth and for developing the skills needed to lead high-performance teams as discussed by Randall Peterson in this Insight into Action session.
If you'd like to know more about the Leadership Incubator, please contact student-led@london.edu.