By Callum Charman, MFA Recruitment Associate
At London Business School we aim to have a profound impact on the way the world does business and the way business impacts the world. This is achieved through our enduring commitment to three key values: London spirit, powerful learning environment and global network.
The Masters in Financial Analysis (MFA) programme is our flagship early careers course for students looking to progress into the world of finance. Thinking of applying? Here are five key takeaways from our MFA Programme presentation:
1. Global Appeal and Variety of undergraduate disciplines
The MFA programme has a truly international appeal, drawing future business leaders from all corners of the globe: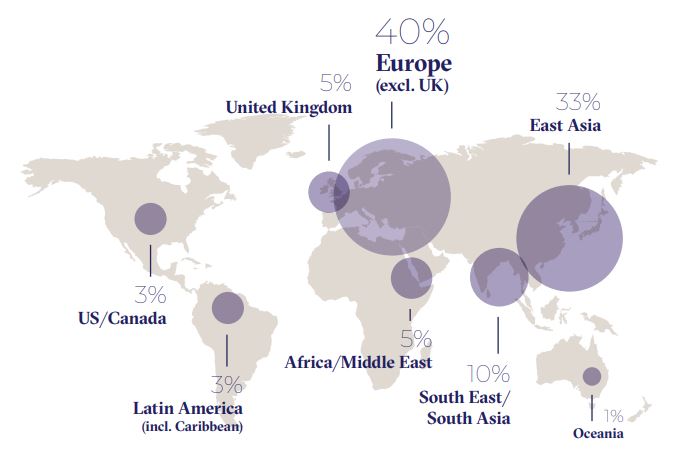 Our candidates come from a diverse range of undergraduate study backgrounds, making the MFA class a varied and exciting collection of individuals. These include, but are not limited to: accounting, finance, business, management, economics, mathematics, science, engineering, social sciences and humanities.
2. Diverse and fast-paced curriculum
From pre-programme material through to final projects, the MFA offers a varied and fast-paced curriculum, designed to replicate the demands of working in the world of finance.
Core Modules– Taught by our expert faculty members, at the forefront of global business, it is through our core courses that business theory is applied to the real world. With the use of case studies, classroom discussions and applied learning, active engagement is encouraged through a supportive and collaborative environment.
Electives– Our flexible electives allow cross-programme collaboration within a variety of formats. From 10 week courses to evening and weekend options, our electives can be tailored to fit around our students busy schedules. Based on faculty research, they allow for specialisation and the opportunity to deep dive in an area of interest. Available electives are grouped into seven categories: accounting, economics, finance, management science and operations, strategy and entrepreneurship, marketing and organisational behaviour.
3. Personal development and skills courses
Access to key skills courses are provided alongside core and elective modules, allowing for personal and professional development. These offer a fantastic opportunity to learn and build on a variety of key skills required to be successful in business, including but not limited to:
Business and Technical Skills
Interpersonal Skills/Networking
Numerical Skills
Digital Skills
Consultations with key employers, the career centre and feedback from students and alumni have shaped our skills courses so the offer the most practical support for future business leaders. The knowledge gained from these courses can then be used to complement core and elective modules.
4. Experiential Learning
As part of the MFA programme, there are many opportunities to apply learning from the core and skills courses to develop solutions with a real world impact. The London Business Challenge Week, which takes place in the second semester, is the best example of students being able to apply their knowledge to tackle a real life business problem. As part of this week long intensive course, students are required to work in groups to address a single business challenge, with the scope of the task assigned by the businesses themselves, with last year's participants including:
Three Hills Capital Partners
Sosie
Carbon Chain
Plytix
S&C SciChem
XYZ Reality
Raine
Each group is assigned a mentor with sector expertise to provide support and guidance across a variety of sectors including: fintech, asset management, investment banking and tech media.
5. Global Immersion Field Trips (GIFTs)
For many of our students the most exciting aspect of the MFA programme is the opportunity to take part in one of our Global Immersion Field Trips. The GIFT is a week-long opportunity to immerse in another culture and experience new ways of doing business. The six locations are split into two categories:
| | |
| --- | --- |
| Social Innovation and Impact | Technology and Entrepreneurship |
| Cape Town | San Francisco |
| Kathmandu | Tel Aviv |
| Medellin | Beijing |
Organisational visits, guest speakers and an opening and closing session with faculty, all form part of an experience that allows students to develop a global outlook and a new approach to doing business. Diary accounts of the GIFT experience can be found on the Student & Admissions blog.
Contact us:
We look forward to hearing from you soon!