As co-presidents of the committee, we wanted to introduce to you the Out in Business (OiB) Club at LBS.

For over 25 years, OiB has pursued its mission: to inspire lasting positive change as LGBTQ+ business leaders and allies, helping members fulfil their career development goals to make the business world more inclusive. We welcome everyone, of all sexual orientations or gender identities, including allies who are an essential part of the conversation and our community. 
We engage LBS through three core pillars:
Community Building: With over 900 members, including engaged alumni, OiB is one of the most active clubs on campus for both LGBTQ+ students and allies.
Professional Growth: OiB partners with employers, from diverse sectors, committed to the highest diversity and inclusion standards through targeted career events and opportunities to network. EUROUT – Europe's largest LGBTQ+ student business conference – organised by OiB each year will take place between 17-19 November 2022 (mark your calendars!).
Social: OiB hosts dozens of inclusion and social events across London, from monthly mixers to hosting the year's biggest party, The Rainbow Party, at London's iconic Heaven nightclub – taking place this year in early September.
We foster an inclusive environment that brings together LBS students, admits, alumni, staff, faculty, and professionals to consider the challenges facing the LGBTQ+ community and its intersection with business. Visit our website here to learn more!

We are so excited to meet you and welcome you to the OiB community!

Best wishes,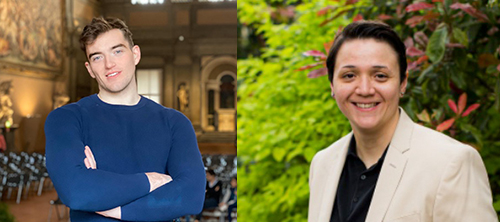 Cameron Martin and Julia Hamilton
Co-Presidents, Out in Business Club